Please click below to see the rest of our site!
---

---

---

---

---

---
---
---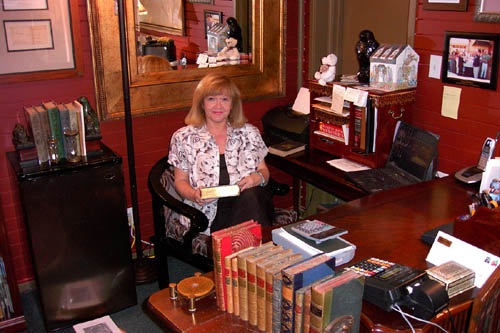 The shop is now owned and operated by Ann Bruce Chamberlain Maroe, George's daughter, who learned about "Antique Books" at her father's knee. Ann also owned the Antiquarian of Bend in Bend, OR, and brings a new flair and style to the shop. And now she has returned to Bend, OR with The Antiquarian Book Shop from Scottsdale, AZ. Combining the two shops, and moving the Scottsdale Shop, in its entirety, to Bend.
Ann Bruce Chamberlain Maroe was born and raised in Dallas, Texas, graduated from Highland Park High School, graduated from Greenbrier College in West VA, the on to Parsons School of Design in New York City. Worked as an illustrator for the Dallas Times Herald, moved to California where she began free lancing as a book illustrator and book cover illustrator. Was an Art Director for Beacon Typesetting till settling down and raising a family. Married Glenn Maroe, an entreperneur in Real Estate. and became a mother and housewife. Enjoying it immensely. Glenn was killed in a car acident in Oregon in 1992. Taking over the family bookshop was a labor of Love.
"Books are universally cherished. The written word is how people have always communicated " - Ann Maroe, Owner